What do we need to do?
Since Plum Village was first established in 1982, the Plum Village community have opened eight monastic centres around the world. We have received advice based on these experiences and learnings of the monastic community. We are working collaboratively with Plum Village to ensure there is support for providing monastics who are very much in demand!
One of the potential ways to realise our vision, which we are actively exploring, is to purchase a property in an inspiring natural setting that would be home for a starter group of perhaps 8-12 monastics at first (and hosting 30-50 guests), growing to a full community 20-30 monks and nuns hosting over 100 guests, with extra capacity for camping in the Summer.
The chosen property will have scope to expand and over time there will be much work needed to expand the accommodation capacity, improve the facilities and create a second monastic residence.
We need to raise at least £1 million to add to the £500,000 of assets the the Community of Interbeing and Buddhist Interhelp have raised so far. Further fundraising will be needed for the second phase, which revenue from retreats will also contribute to.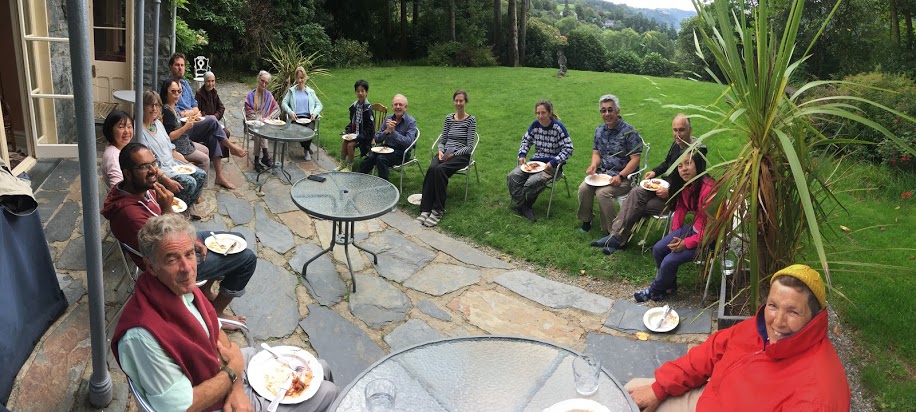 What has happened to date?
Since the possibility of this project re-emerged at the 2017 London Mindfulness Hub, a small team of dedicated volunteers has come together which includes skills in commercial property, project management, start-up projects and online communications.
Many steps towards have been taken including:
Gaining an understanding of what is involved in starting a centre from the monastic point of view and understanding what requirements the monastic community is likely to have to create a successful centre

Legal groundwork for the new legal centre entity that would allow the monastics to run the centre (The Community of Interbeing and Buddhist Interhelp will gift the property to this entity)

Legal work on what will be required for visas for international Plum Village monastics

A property feasibility study and property visits to understand what is available that would meet the requirements

A regular fundraising team has formed and benefitted from generous support from experienced fundraisers

A gathering at a potential property including monastics, COI trustees, Lay Dharma teachers and project volunteers to come to a collective understanding

A survey, zoom calls, and correspondence with COI members to collect views and opinions